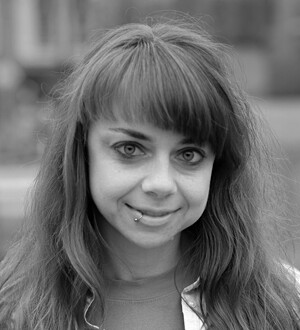 Vanessa Schäfer
Editor and PR-Manager - kursfinder.de – Marketing / Communication
How did you end up at EMG?
I saw the job advertisement somewhere on the internet. The ad caught my attention because the way EMG promoted itself and the words they used were very different from other job ads. As I was not that satisfied with my former job anymore I decided to apply for this job quite spontaneously. There was only one day left to the deadline for application and so I took the chance - and it was successful. I was invited to an interview - the longest one ever. I talked with four different people, not at the same time but one-by-one. A few days after the interview I got an email from EMG with a work-task to fulfill within a couple of days. So I spent several hours over the weekend to do my best - I was successful again. Three days later I got a call and the job.
What surprised you the most when you started working here?
The high level of independence and responsibility I had from the very beginning. I could do my work in the way I decided to do it. And the other thing was the good working atmosphere. I felt very comfortable from the early beginning and I was part of the team from the first day on.
Describe a day at work
Days at work can be very different, depending on the tasks at hand. There are days I spend more or less the whole time with research and writing articles and press releases. On other days I prepare a newsletter or publish a press release. Sometimes there are statistics to report or events to plan. Although we are mainly dealing with advanced training, the tasks and topics vary a lot.
What do you enjoy most about your job?
I like to work in a team and be quite independent at the same time. And I like to share a similar mind-set with my co-workers. And of course I enjoy writing articles - this is the main reason why I am part of the EMG.
What do you enjoy the least?
As I am a creative person and I do not enjoy doing statistics that much.
What kind of person would fit in at EMG?
An open-minded person with a high level of independence and flexibility fits in at EMG. Someone who is not stuck to old thought patterns and command structures. Someone with vision and the willingness to make them real.
Whats the office culture like?
It is more or less like a big family with a flat hierarchy. Everyone has his/her own tasks and is doing their best to achieve the company goals as a team.


What does Performance mean to you?
To me, performance means doing best and giving at least 100 percent - not for the company in the first case, but for me. I need to be satisfied with the way I am doing my job and with the results. When I come home in the evening, I like the feeling of having achieved something. This makes me happy and I guess the company benefits from it as well.