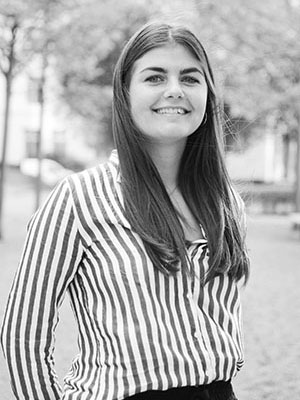 The winner of "co-worker of the month" in May is Karen Pedersen , Digital Content Editor at EMG Denmark!
The Winning nomination:
"For being the most fun and most dedicated.
In her internship the last three months, this person has launched a DK scholarship, which - although post-dated - is already bringing in links in DK and internally. Together with her colleagues she has produced the Best Danish Student City Award, which is being showered with local press as we speak. The SoMe shares the section is driving include the voices of mayors round the country – key external stakeholders in the EMG DK deal ecosystem.
She has single-handedly held the Danish comm's department together at a time of great staff shortage on top of COVID upheaval. She's produced top content – as well as handled normal day-to-day Comms' requests - on top of acing her degree on the side.
She's showing the way by ambitiously planning and, most of all, executing content whose quality ensures it isn't ignored.
She is a fantastic intern! We look forward to having her continue as an employee!"

Short interview with Karen:


What are you working with today? 
My primary work tasks at the moment are content creation and email marketing. In the last couple of months I have had an extra focus on link building regarding our sustainability scholarship at finduddannelse.dk and creating the Best Danish Student City Award, 'Årets Studieby 2020', at studentum.dk. 

Why do you think you became the employee of the month? 
It's hard to say, my internship turned out a little different than expected due to staff shortage and corona. I've tried to do my very best in handling the situation the best way possible and I guess my sweet colleagues and manager think I did alright.
What do you have planned for the spring/summer? 
I'm just gonna focus on work and finishing my degree in business administration and organizational communication. I'm defending my bachelor thesis about social responsibility in the sports-betting industry and to celebrate that I will be attending 5 weeks of Summer University :-)